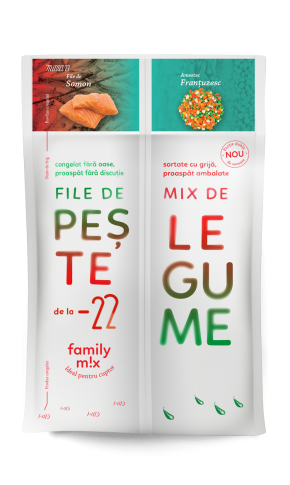 The salmon has a specific strong flavor and can be recognized very easily after its orange-pink meat.
The French mix contains carrots, peas, potatoes and parsnip for a colorful culinary experience.
Benefits:
a balanced mix of food that ensures easy digestion
frozen products, directly from the source
correct portioning for 2 people
can be cooked quick and easy in the oven in max. 25 min
Popularity
Cooking speed
Kitchen smell
Accessibility in port
Import duration
Product available in the following stores:

Calories 206 kcal
Calories from Fat 111 kcal
Vitamin A 1%
Vitamin C 6%
Calcium 1%
Iron 2%
Proteins 22g
Total Fat 12g
Saturated Fat 3g
Cholesterol 63mg
Sodium 61mg
Carbohydrates 0g
Fibers 0g
Sugars 0g
Salmon fillets are sliced immediately after being fshed and frozen quickly for a long-lasting freshness.
The vegetables are carefully sorted and frozen fresh through the Quick Freezing method. This way they retain all their nutrients and vitamins.
The consumption of frozen products reduces the waste of food.
Recommendation: the fish should be defrosted in the refrigerator a day before cooking. Don't use the microwave or water. This way, the fish will keep its structure, flavor and nutrients. The vegetables do not require defrosting before being cooked.